If you are an artist, craftsman, or tradesman who can surprise the seller marketplace through his unique creation then congratulations! You can earn money online from Etsy if you follow this article.  Here you will learn about how to browse Etsy, what features it provides, How much Money you can earn through this platform, and how to handle any complication that arises. So, stay tuned.
Introduction:
Etsy is such an online Earning Platform where you can set up your profile as a seller. Here, you deal with buyers at good prices and sell them your handmade or customized craft. It is such a beneficial platform where you can earn a handsome amount of money if you have skills.
It should be clear that this platform is equally suitable for both experts and beginners. So, if you are thinking that this article is beneficial for me as a beginner then it is worthwhile, actually. So, before starting its complete discussion we discuss its first step, how to browse it.
What is the Browsing Procedure of Etsy as a beginner?
Being a beginner you need to follow some steps to reach your goal.
1. Browse Etsy Website:
The first step is to search the Etsy website. As the website has smooth browsing you will not get any traffic issues or slow browsing. It will run smoothly and here is the homepage of Etsy showcasing.
2. Explore by Category:
The homepage will show a huge category of products. For example:
Clothing.
Home Accessories.
Jewelry.
Kids Accessories.
Kitchen things.
Customized stuff.
Toys.
You will get a huge category of things. When you open the page for the very first time you will open a homepage that will show you a buyer prephase. You have to set up a seller profile if you want to sell your unique craft. So, let's start making your seller profile.
Set up your Seller Profile and Let's open your Etsy shop.
It will be so easy to set up a seller profile if you follow everything in a sequence.
Go and visit the main site of Etsy. It will ask you for two options: "Login" or " Signup". If you have never created an account then go with the signup option. Put your Email. And that's all. But remember that you must have put in the right email account. Because all updates will be sent there.
Click the top right corner and change your buyer profile to a seller one. Now you can set up your craft shop here.
You can set the pricing of your offered products according to you. But if you are new to this site you should set the medium pricing to attract more traffic.
You must explore the buyer marketplace before setting the pricing. Here, you can get an idea of how other markets are running through the same product you are offering them.
Don't forget to make a detailed and authentic description of the product. Because authenticity is the demand of every marketplace. If the worth and quality match you will earn handsome of course.
Last but not least, you should remain in touch with Etsy as if you do not pay attention you can not grow up here. It is the major tip that I can give you for your business setup here.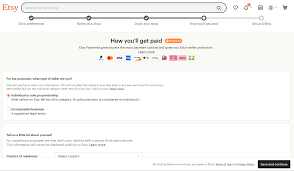 Who can Approach Etsy?
Do everybody can approach Etsy or only people with specific niches can work here? There are some questions when you approach Etsy for the first time. It should be clear that Etsy is available for those people who want to sell or purchase anything from here. As we are proceeding with seller discussion so here we discuss some of the niches:
Designer necklaces, bracelets, earrings, and rings, as well as other accessories like scarves, hats, and purses, may be shown here.
Wall art, sculptures, candles, fabrics, ceramics, furniture, and other one-of-a-kind objects may be sold by individuals that specialize in home design.
Designers and others who just really like paper items may sell things like custom notecards, invitations, diaries, calendars, stickers, and more.
Etsy is a great place to find unique products for a wedding or celebration, including customized presents, favors, and décor.
You may get a wide selection of beads, textiles, yarn, sewing patterns, knitting needles, paint, brushes, and more at local craft supply stores and online.
Sellers of organic and natural cosmetics, candles, soaps, essential oils, and medicines may promote their wares on Etsy.
Items that may be altered to one's liking are abundant on the online marketplace Etsy. These include engraved jewelry, monogrammed presents, custom-made garments, and even custom-made works of art.
How Much Money Can I Earn Through Etsy?
It totally depends upon your selling product and Selling skill. The market is full of competition. Everyone here wants to earn that's why you have to do hard work in creating your profile, its description, and maintenance. And yes the craft material! It is one of the factors you need to maintain.
You earn money in USD. If you work harder and provide quality you can earn more than your expectation. And your all payments are directly transferred into your account via Etsy Payments.
Payment Method in Etsy.
It is clear that the payment will be in USD. But it can convert the USD into any currency. It depends on the currency of your country. For example, if your country has currency rupees it will convert the USD into that currency and you can easily take the money into your bank account.
The Payment policy Etsy provides is fair and genuine. The Etsy support system always tries to help out its customers in every aspect. All the currency charges are mentioned before you go for its conversion so that Etsy builds up its trust on its customer.
Drop-shipping on Etsy
It is Etsy policy that sellers who dropship must have some involvement in the making of the things they offer for sale. They're in charge of creating an accurate catalogue, dealing with client inquiries, and keeping the store's reputation intact. As long as the seller satisfies these conditions and verifies that the products are neither mass-produced or widely accessible on Etsy, they are free to utilize third-party suppliers. This strategy helps vendors broaden their stock while staying true to Etsy's emphasis on handcrafted goods.
How Etsy Help out Its Members in Case of Any Complexity.
Etsy has a help center that helps customers in any way:
Manage the conversation matters between seller and buyer and keep everything safe.
If you have any problem regarding order cancellation and you can get help through the help center. It will support you with the best solution to your problem.
Etsy has a good community and policy. It is a place where everyone can collaborate with each other. A lot of buyers and sellers are part of this community.
Etsy users may join communities centered on issues they care about the most. Crafts may range from crafting jewelry to restoring antique garments to decorating the house to taking photographs. Participants in these organizations may meet other sellers and buyers who share their interests and learn from one another.
Numerous communities provide guides and lessons covering a wide range of Etsy-related subjects, including advertising, search engine optimization (SEO), and product creation. Members who are interested in developing their abilities and expanding their enterprises may find these helpful.
In order to increase exposure and sales for their Etsy stores, several clubs provide members with promotional opportunities including product showcases and discount promotions.
Conclusion:
To improve your chances of being successful on Etsy, you should place a strong emphasis on bringing value to customers, satisfying their requirements, providing outstanding customer service, and offering pricing that is competitive in the marketplace. Creating a powerful brand and creating a client base of devoted followers may help you make more money over the course of time.
Finally, Etsy provides a wonderful venue for company owners and creative types to promote their wares and make a living doing what they love. Making money on Etsy takes time, work, and devotion, but if you follow best practices and adopt effective techniques, you can build a successful company and see your earnings increase.
Note:
Here you can find more online earning-related ideas.